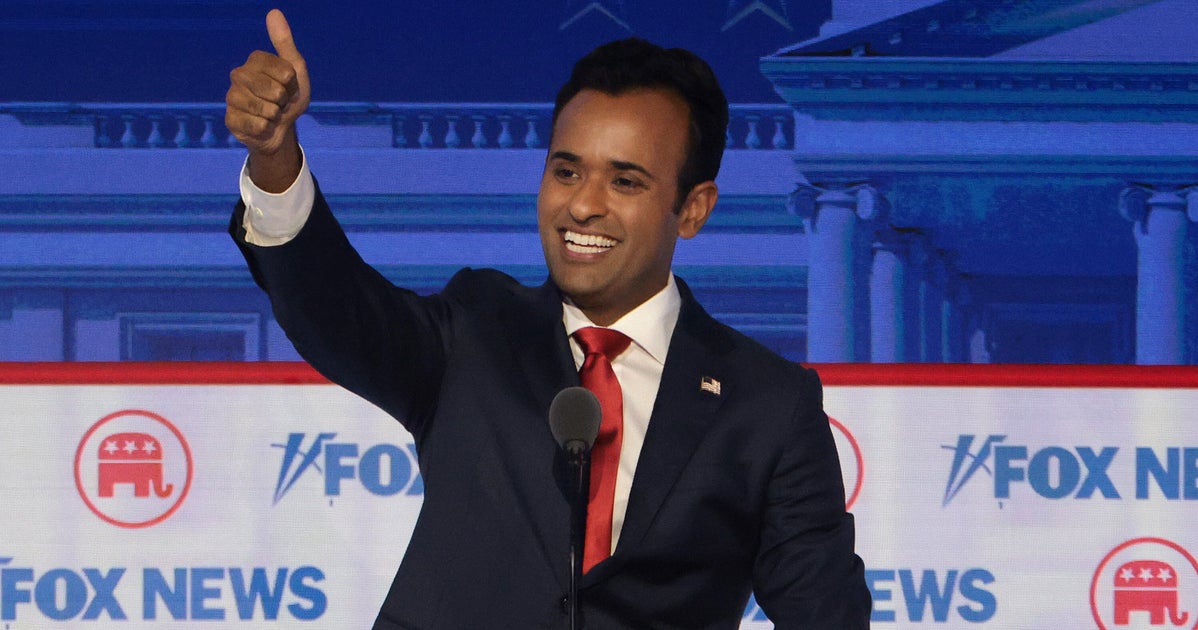 PELLA, Iowa ― Vivek Ramaswamy, the multi-millionaire biotech investor seeking the Republican presidential nomination, characterized Rep. Ayanna Pressley (D-Mass.), prominent author Ibram X. Kendi, and other progressive anti-racists as akin to "grand wizards of the modern KKK."
The remarks came up on Friday afternoon in response to an Iowa resident asking Ramaswamy at a campaign event whether he is likely to be accused by liberals of being a "white supremacist" or some kind of "white adjacent" race traitor.
Ramaswamy responded with a long riff on how he considers those contemporary progressives, who insist that he should have liberal views based on his non-white identity, to be the biggest sources of racial discrimination in contemporary American culture.
He cited as examples two statements made by Pressley and Kendi, who are both Black.
"We don't need any more brown faces that don't want to be a brown voice," Pressley said at the liberal Netroots Nation conference in 2019. "We don't need Black faces that don't want to be a Black voice."
Ramaswamy also noted that Kendi wrote the following in his bestselling book, "How To Be An Anti-Racist": "The only remedy to past discrimination is present discrimination. The only remedy to present discrimination is future discrimination." (Ramaswamy did not cite the sentence preceding those two, "The only remedy to racist discrimination is antiracist discrimination.")
Pressley's comments, in particular, deprive non-white people of their agency as individuals, treating them as a monolith based on their identity in a similar way to what the Ku Klux Klan used to do, Ramaswamy argued.
"The greatest racism I've experienced ― and I have experienced racism ― comes from the modern left at a scale unimaginable," said the GOP candidate, who is the son of Indian immigrants. "Because I think they feel a sense of betrayal, saying that, 'You're not speaking in the tone that you're supposed to.'"
"So the other side will gaslight you when you're saying this stuff, 'Oh, you're just making that stuff up,'" added Ramaswamy, emphasizing that he was citing specific quotations. "These are the words of the modern Grand Wizards of the modern KKK."
Pressed by reporters after the event, Ramaswamy stood by the essence of his remarks but tweaked them to avoid comparing contemporary progressives to KKK leaders in themselves. Instead, he said, Pressley, Kendi and the "whole movement" with which they are associated would make the KKK "proud."
"The fact that we're taught to see one another on the basis of our genetic attributes is something that would make the old wizards of the grand KKK proud," Ramaswamy said. "I think here is no better way to disempower someone in this country, as a kid, than to say that you can't get ahead because of the genetics that you're born with."
"I would say in recent years, probably the last decade, it's come from the left. And I think it says a lot about the decay in our culture," he added. "From the likes of the modern evangelists of this modern religion would certainly make, in some ways, the old generation of KKK grand wizards very proud, in a certain sense of that word."
HuffPost reached out to representatives of Pressley and Kendi for comment but did not receive an immediate response.
Ramaswamy has opposed racial preference programs designed to correct past racism, such as affirmative action, a core focus of his campaign. To that end, the list of ten "truths" he recites at every campaign stop includes the idea that "reverse racism is racism."