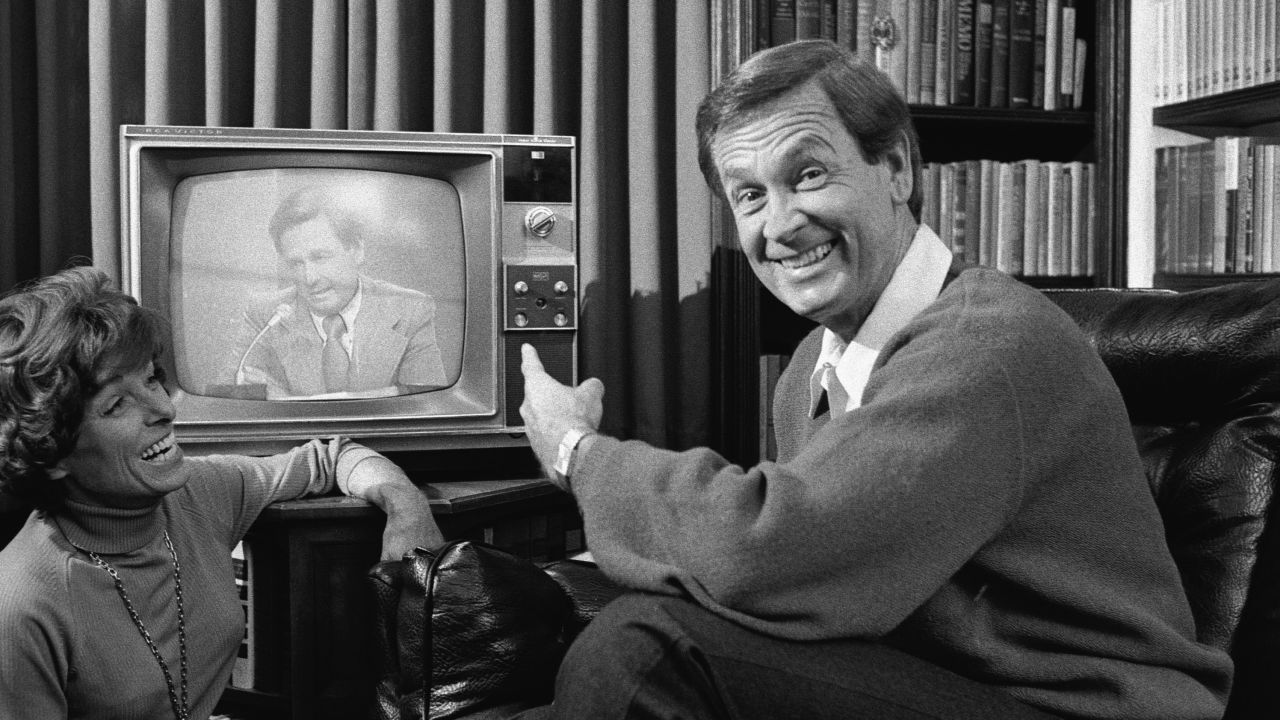 Bob Barker, the "Price Is Right" host whose silky-smooth command, impish sense of humor and advocacy for animal welfare issues made him a beloved fixture on television for more than 35 years, has died. He was 99.
The news was confirmed by his representative Roger Neal. No cause of death was provided.
For more than three decades, Barker was the host of the classic CBS game show that asks players to bid on such items as a pack of gum, a popcorn popper and a luggage lock in hopes of winning, as its announcers trumpet, "A BRAND NEW CAR!"
The show, which had a nine-year run in the '50s and '60s with Bill Cullen, returned in 1972 with Barker. He stayed for 35 years, passing the mic to comedian Drew Carey in 2007.
Barker earned 19 Emmys and a lifetime achievement award in the process.
He attributed "The Price is Right's" success to its fast pace and focus on the unvarnished personality of its contestants, who, unlike on other shows, were not pre-screened.
"I think television viewers like to see people just like they are up on the stage doing this stuff," he told the Archive of American Television in 2000.
For all of the fun Barker had doing "The Price Is Right" – and he obviously took pride (and pain) in the contestants' shrewd guesses or way-out wagers – he found his true passion in advocating on behalf of animals. He devoted his name, and significant amounts of his wealth, to programs to end animal cruelty and reduce pet overpopulation.
The most visible element of that passion was his daily admonition to "The Price is Right" viewers at the end of each telecast when he said, "Don't forget to have your pets spayed or neutered!"
"How would I like to be remembered? As the man who said, 'have your pets spayed or neutered,'" Barker told the Archive of American Television.
Beginnings

Barker, who was part Native American, was born Robert William Barker in Mission, South Dakota, a town of 200 people on the Rosebud Indian Reservation, on December 12, 1923. He recalled playing basketball, fishing on the local reservoir and excelling as a student there. His mother was a teacher, and his father was a utility worker.
He attended Drury College in Springfield, Missouri, on a basketball scholarship but dropped out two years later to join the U.S. Navy during World War II, after seeing a photograph of a naval aviator decked out in his formal dress whites.
"I thought, 'If I'm going to go to war, I want to go looking like that guy,'" he told CNN in 2013. "I'd never been up in an airplane. I had certainly not thought about what was involved in landing one on a carrier, and I had never even seen the ocean. But I loved that picture."
He never made it to combat. The war ended before he could be assigned to a seagoing unit, so instead he went back to Drury and started to work in radio writing news and doing a five-minute sportscast for Springfield radio station KTTS. Eventually, he had his own radio show in Los Angeles, "The Bob Barker Show."
It was then that he got his television break. Ralph Edwards, the producer and host of "Truth or Consequences," was looking for an emcee for a new daytime version of the TV show – a long-running hit that Edwards had begun on radio. Edwards heard Barker and hired him for the job.
NBC, which was going to air the show, wasn't impressed. According to the book "Television Game Show Hosts," the network gave Barker four weeks to prove his abilities. The show was a hit, and Barker ended up hosting it for 19 years – on NBC until 1966 and then in syndication until 1975.
Every year on December 21 – the day Edwards offered him the job – Barker and Edwards would get together for a celebratory drink. Edwards died in 2005.
A fateful career move

Barker made his debut as host of "The Price is Right" on September 4, 1972 – even as he continued his hosting duties on "Truth or Consequences."
As the show went on, Barker became increasingly connected to the "Come on down!" catchphrase used to summon contestants out of the audience. He told interviewers that people routinely called it out to him on the streets even though he did not coin it; it was just part of the show's daily script.
Over the years, the CBS show became part of the American cultural fabric, with Barker's amiability a primary reason.
He nimbly handled overzealous contestants – including one who lost her tube top while bouncing in excitement – as well as some who just couldn't grasp the game.
At one point in 1987, he decided he wasn't going to dye his hair anymore. The audience greeted him with a standing ovation.
"I was tinting my hair for years, and it started getting blue," he once said. "And then they put a permanent dye in it, and it got red. So I decided to do the patriotic thing and let it be white. And here we are."
In pictures: Television icon Bob Barker
Barker also came up with the "spay or neuter your pets" admonition with which he ended each show.
Barker said the animal activism he later became associated with came on gradually, in part with the help of his wife, Dorothy Jo Gideon, who died in 1981.
Barker told the Archive of American Television that Gideon gradually stopped wearing furs and leather and became a vegetarian, helping open his eyes to the plight of mistreated animals.
A real change came during an opportunity to serve as honorary chairman of "Be Kind to Animals" week in Los Angeles, he said.
"As I did and became more and more aware of the terrible exploitation of animals, I just felt compelled to change the situation," he said. Barker, too, became a vegetarian.
Scandal and continued activism

Barker did have to endure some minor scandals. The host had a three-year relationship with one of "Barker's Beauties," "Price Is Right" model Dian Parkinson, in the late '80s. Parkinson later sued for $8 million, claiming harassment and wrongful termination. A judge dismissed the latter claim; Parkinson eventually dropped the former.
While Barker told the Los Angeles Times in 2000, "It was all in the minds of the women," other models also publicly commented about challenges with Barker.
In addition to his calls to reduce pet overpopulation – he created a foundation that provides grants to spay and neuter campaigns – Barker championed ending animal testing, advocated against the mistreatment of bears and other animals held in captivity in substandard conditions, and donated hundreds of thousands of dollars to wildlife rescue groups and other organizations.
In 2008, he made a $1 million contribution to his alma mater to set up the nation's first course in animal ethics.
Barker earned a new group of fans in 1996 with his appearance in the Adam Sandler comedy "Happy Gilmore," in which he ended a slapstick beatdown of Sandler's character with the saucy over-the-shoulder retort, "Now you've had enough, b***h."
"I never taped a 'Price Is Right' once 'Happy Gilmore' had been released that the audience didn't want to talk with me about my fight scene," he said.
He was proud of his "Price Is Right" tenure, but even prouder of the message to spay and neuter pets. He was determined that the campaign live on after he left, he said in 2013, and couldn't have been happier that successor Carey felt the same way.
"As we were introduced, before I said anything, Drew Carey said, 'Bob, I'm going to do that spay and neuter plug at the end of every show as long as I'm the host of 'The Price Is Right,'" Barker recalled. "I said, 'Drew, you're my man.'"
Barker is survived by his longtime partner, Nancy Burnet. His wife of 36 years, Dorothy Jo Gideon, died of lung cancer in 1981. The two had no children, and Barker never remarried.
Tributes

Two of the more notable personalities associated with Barker quickly paid their respects via social media on Saturday.
Barker's "Happy Gilmore" costar Adam Sandler tweeted, "The man. The myth. The best. Such a sweet funny guy to hang out with. Loved talking to him. Loved laughing with him. Loved him kicking the crap out of me."
"He will be missed by everyone I know! Heartbreaking day," Sandler continued. "Love to Bob always and his family! Thanks for all you gave us!"
His "Price Is Right" replacement Carey tweeted, "Very sad day for the Price Is Right family, and animal lovers all over the world. There hasn't been a day on set that I didn't think of Bob Barker and thank him. I will carry his memory in my heart forever."