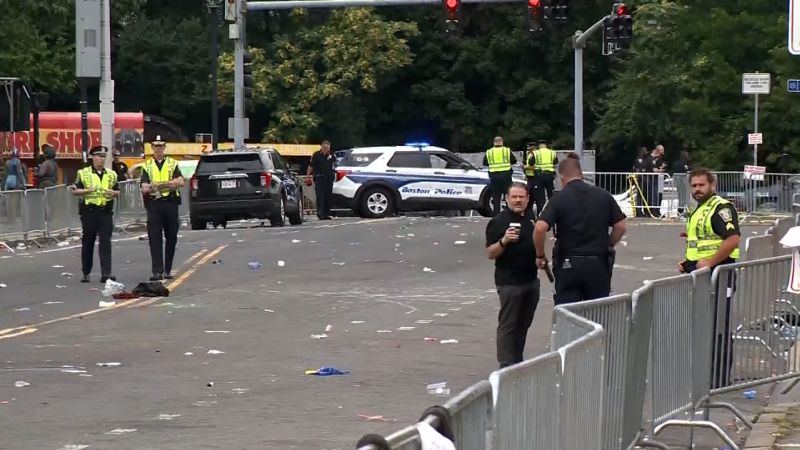 At least seven people were injured Saturday morning in a shooting that halted a popular Boston parade, police said.
The victims were taken to hospitals with non-life-threatening injuries. Two arrests were made and multiple firearms recovered, police said.
Boston Police Sgt. Det. John Boyle earlier said the shooting occurred during the J'ouvert Parade, which is part of the city's Caribbean Carnival.
Police Commissioner Michael Cox later clarified the violence erupted on the outskirts of the event. The parade was halted because of the shooting, which was unrelated, Cox said.
"It's always heart-wrenching to hear that a treasured community event has been disrupted by acts of violence from those who had nothing to do with the event," Mayor Michelle Wu told reporters.
"And there's no – absolutely – no excuse for something that is open to the community and part of Boston's culture and heritage to be talked about in this way because of the acts that were introduced."
Police said emergency calls started about 7:45 a.m. regarding a shooting at the corner of Blue Hill Avenue and Talbot Avenue in Dorchester.
Cox said the shooting potentially involved "two groups having some type of altercation."
"As a result of officers responding very quickly to the scene, they were able to run towards not only the gunfire but actually apply tourniquets and help to all the victims of the gunshots," Cox said.
Police asked anyone with video evidence or those who witnessed the shooting to contact them.
Boston's Caribbean American Carnival is celebrating its 50th anniversary.
"We have no interest in having anything but peace," said Shirley Shillingford, president of the Caribbean American Carnival Association of Boston.
"It was very, very difficult for me this morning to know that something occurred when we work … so incredibly hard to put on something that is more a family-oriented event and peaceful."
The carnival's second parade is scheduled for Saturday afternoon.
"Despite the horrible event that occurred this morning, Boston Carnival is still on!!!!" the carnival association said via Instagram and Facebook.
"The rest of the day is going to be a really wonderful celebration," Wu said.
The daylong event, which dates to 1973, usually draws thousands of people for a cultural celebration, which includes a steelpan competition and a masquerade ball, according to its website.
Several violent incidents have taken place at or near Boston's Caribbean Carnival, CNN review shows

Saturday's shooting is not the first case of violence reported at or near Boston's Caribbean Carnival event in recent years, a CNN review shows.
Reporting from CNN affiliates and official statements from local authorities reveal several shootings and other violent incidents have occurred during the Carnival weekend or at the event itself, with at least three deaths within the past decade.
"I want to reiterate loud and clear that the event itself, the incredible organizers, the Caribbean community that comes together, this is a huge benefit for the city of Boston to have this event," Wu said. "The economic impact from visitors coming from all around the world, we have one of the largest celebrations, one of the longest running celebrations and to associate any individual events with acts that might have happened that were nearby or unaffiliated with it, I think can reinforce harmful perceptions in our community."
A 33-year-old man was shot and killed in Boston's Dorchester neighborhood in 2022, just a few blocks away from the site of the annual festival, CNN affiliate WCVB reported.
In 2021, a 17-year-old was fatally stabbed in the neck while attending the Caribbean Festival, according to a news release from the Suffolk County District Attorney's office.
In 2019, two men were accused of shooting at each other near police officers during the J'ouvert Parade, according to a statement from the Boston Police Department.
In 2015, the night before the Caribbean Carnival, five people were shot in three separate incidents, and one 27-year-old man died from his injuries, according to CNN affiliate WCVB.
"The night leading up to J'ouvert and the Caribbean Festival always proves to be one of the most violent of the year," Boston Police Commissioner William B. Evans said after the 2015 shooting.
Violence also broke out the previous year in 2014 when a 26-year-old was shot and killed while attending the parade at the carnival, according to a news release from the Suffolk County DA's office. Another woman was also shot during the 2014 parade.
Nationally, about one in three, or 35% of adults, said they have avoided large crowds, such as music festivals or crowded bars and clubs to protect themselves or their families from the possibility of gun violence, according to a survey from KFF.
A spokesperson for the Boston Police Department said it would not release any comments on the carnival as the event is ongoing.
At least 471 mass shootings nationwide so far in 2023

There have been at least 471 mass shootings in the US so far in 2023, according to the Gun Violence Archive, which like CNN defines a mass shooting in which four or more people are injured and/or killed, not including the shooter. The nation surpassed the 400 mark in July – the earliest month such a high number has been recorded since 2013, the nonprofit said.
The gun violence in Boston marked one of several reported shooting incidents in the United States over the past two days, including in Florida and Oklahoma. Shots rang out across several cities, bringing a startling halt to everyday summertime activities like high school football games and weekend shopping.
In Florida, at least three Black people were killed Saturday in what police have said was a racially-motivated shooting. The shooter also died in the incident.
And a high school football game in Choctaw, Oklahoma, took a deadly turn Friday night after a possible argument led to three people being shot, authorities say. One of them – a 16-year-old boy – died. And four people, including a 17-year-old, were killed at an apartment in Joppatowne, Maryland, Saturday morning, officials said.
CNN's Polo Sandoval and Zoe Sottile contributed to this report.