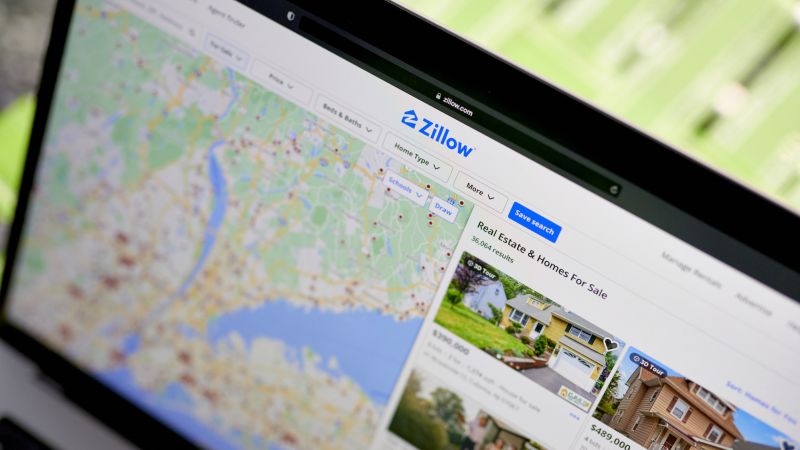 For buyers facing affordability challenges getting into a home of their own, Zillow Home Loans is rolling out a new option: a 1% down payment.
Through the program, an eligible buyer pays as little as 1% toward a down payment. Zillow Home Loans pays an additional 2%, bringing the total down payment to 3%, which is typically the minimum payment required for a conventional home loan. Alternatively, buyers can put down 3% with Zillow's 2% bringing the total down payment to 5%.
The 2% is paid through closing costs and not as a payment to the borrower. Currently the program is only available to buyers in Arizona, according to Zillow, with plans to expand.
Home buying is the least affordable it has been in nearly 40 years. With mortgage rates crossing over 7% in recent weeks and home prices rising, home sales have plummeted over the past year. Prices are staying high because inventory remains stubbornly low as climbing mortgage rates are keeping people who have ultra-low interest rates from wanting to sell.
As a result, the mortgage industry has taken a hit. Mortgage applications were at a 28-year low last week, according to the Mortgage Bankers Association.
Zillow has not been immune. The company reported that revenue from its mortgage business was $24 million, down 17% year over year, according to its earnings for the second quarter.
Visits to Zillow's mobile apps and websites have dropped recently, too, with 2.7 billion visits in the second quarter, down 8% compared to a year earlier.
Offering a low down payment program is in line with Zillow's return to its core business after a short-lived expansion into the ibuying business. The loans are part of an effort to grow revenue streams beyond the home listings it is known best for and become what Rich Barton, co-founder and CEO, has called an all-in-one "housing super app."
Who qualifies for lower down payment loans?

Many housing markets are in the midst of an affordability crisis.
The combination of record-breaking home price appreciation and rising interest rates means a majority of first-time buyers, 64%, are putting down less than 20% on a home purchase according to Zillow. And a quarter of first-time buyers are putting down 5% or less, Zillow indicated.
Down payment assistance programs can help to lower the barrier to entry in homeownership for people who can afford higher rent payments but haven't been able to amass a typical down payment of a home, said Orphe Divounguy, Zillow Home Loans' senior macroeconomist.
These programs aim to boost the financial stability and wealth building benefits of homeownership, but they also come with eligibility restrictions.
In addition to low down payment programs on loans from the US Department of Agriculture or the Department of Veterans Affairs, many states, local governments and nonprofits offer special loan programs to make homeownership more affordable. While most focus on low- and moderate-income home buyers getting their first home, some target specific groups like teachers, firefighters or other public service employees, or people interested in buying a home in a particular neighborhood.
The Consumer Financial Protection Bureau provides links to lists of down payment assistance programs. Zillow also offers a down payment assistance tool to see if you are eligible for other programs.
"The rapid rise in rents and home values means many renters who are already paying high monthly housing costs may not have enough saved up for a large down payment, and these types of programs are welcome innovations in lowering the potential barriers to homeownership for those who qualify," said Divounguy.
For the Zillow program, by reducing the down payment burden to 1%, a home buyer looking to purchase a $275,000 home in Phoenix who makes 80% of their area's median income and saves 5% of their income would need only 11 months to save for the down payment, according to Zillow's analysis. By comparison, the same buyer who needed to save 3% of the purchase price would require two and half years, or 31 months, to save that amount.
To qualify for the Zillow low down payment option, borrowers must be first-time home buyers, complete an education course on homeownership and intend to occupy the property as their primary single-family residence, the company said.
In addition, the borrowers must have a minimum qualifying FICO credit score of 620, earn income below 80% of the median income where the property is located, and meet any additional underwriting requirements as applicable.