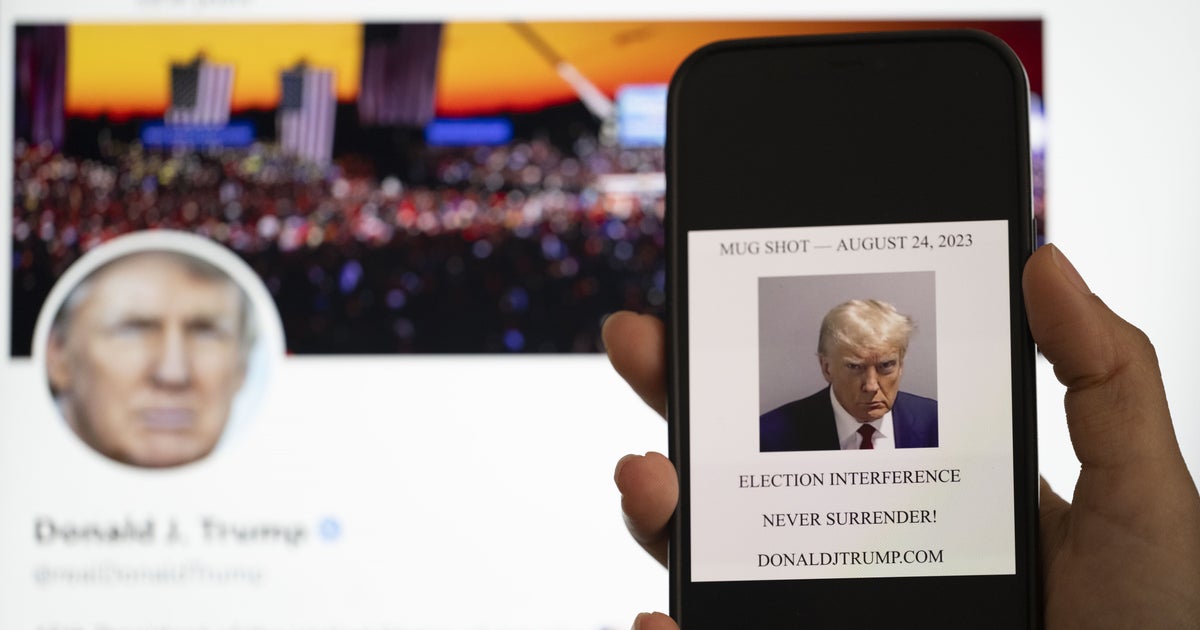 Political candidates are already raising money off of Donald Trump's mug shot, an early indicator of how the stunning image of a former president getting arrested is being used in an attempt to enrich campaigns.
Trump made the seemingly unprecedented choice to use his own mug shot for digital fundraising after his arrest Thursday on charges that he tried to subvert the 2020 presidential election results in Georgia. In his first tweet since Jan. 8, 2021, the former president blasted out the photo with a link to his website, where supporters are asked to "make a contribution to evict Crooked Joe Biden from the White House and SAVE America during this dark chapter in our nation's history."
Trump's mug shot, the first resulting from his many legal troubles, also appeared Friday in a fundraising plea from Sen. Marsha Blackburn (R-Tenn.) that promises to direct "all defense pledges" to Trump's campaign, despite the fine print stating that her joint-fundraising account gets to keep $99 of every $100 raised — a division of fundraising spoils that isn't uncommon. Blackburn's campaign did not respond to a request for comment about the fundraising tactic.
Democrats, however, may end up using the image just as much or more than Republicans to argue that Trump's four criminal indictments make him unfit for office.
"Both parties are going to use Trump's mug shot to raise money," Mike Nellis, the founder of Authentic, a Democrat-focused digital marketing and fundraising agency, told HuffPost. "It's catnip for online donors, for both the left and the right. No doubt about it."
The Democratic Congressional Campaign Committee, the fundraising arm of House Democrats, used the mug shot Friday in a fundraising appeal with the subject "Donald Trump ARRESTED" from a sender labeled "BREAKING NEWS." (If you're lucky enough not to be on any of these lists, then know the over-the-top nature of political fundraising emails is nothing new.)
"Both parties are going to use Trump's mug shot to raise money. It's catnip for online donors, for both the left and the right."

– Mike Nellis, a digital fundraiser for Democrats
A representative with the DCCC told HuffPost that Democrats have been fundraising off of Trump for ages, often with good results. Both sides have successfully monetized Trump's earlier indictments and impeachments.
But given the fierce competition for online donors during the slow end-of-summer weeks and the uniquely evocative nature of Trump's mug shot, there's likely to be an onslaught of new appeals from across the political spectrum.
"Both sides have incentive to keep using it in fundraising appeals," said Jake Sticka, a partner at Rising Tide Interactive and digital advertising consultant for Democrats. "On the right, it conjures up the resentments that Trump has long trafficked in that were the bedrock of a lot of his previous appeals," he added, referencing Trump's penchant for proclaiming himself the victim. "I think it plays right into their general fundraising strategy."
And for Democrats, "it does a lot to crystallize the criminality that folks see in the former president," he said.
"It's an iconic photo that voters should prepare to see quite a bit over the next 18 months," Sticka added. "To the extent that in a year from now we're going to be talking about Trump's crimes, no photo does a better job of succinctly communicating that in a visual fashion."
Asked whether they will advise clients to use the image, both Nellis and Sticka said it depends on the specific client and their message. "For somebody who's running in a more conservative district, I'm unlikely to recommend using it," Nellis said.
Sticka said Democrats should avoid the temptation to "respond to every little thing that Trump says."
Despite Trump's liberal use of his own image to bolster his presidential campaign, Trump adviser Chris LaCivita threatened others against doing the same, even though it's very unlikely the Trump campaign would have legal grounds to prevent it.
"If you are a campaign, PAC, scammer and you try raising money off the mug shot of @realDonaldTrump and you have not received prior permission … WE ARE COMING AFTER YOU you will NOT SCAM DONORS," tweeted LaCivita, whose boss has done far sketchier things to bring in money.
Trump's campaign website features a "Personal Note from President Donald J. Trump" beneath his conspicuously placed mug shot: "Today, at the notoriously violent jail in Fulton County, Georgia, I was ARRESTED despite having committed NO CRIME," it reads, before asking donors to contribute in increments of up to $3,300 — the maximum individual donors are allowed to give to a single campaign.