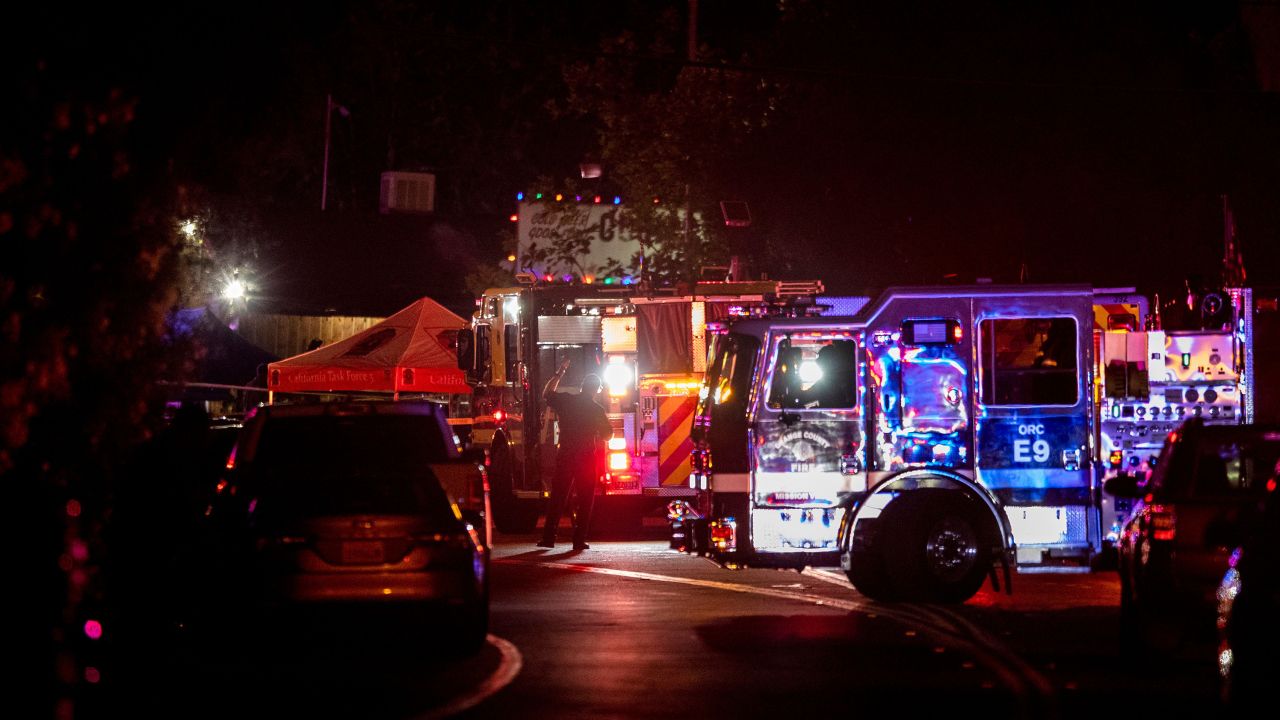 A husband in the midst of divorce proceedings went to a Southern California bar where his wife was dining on Wednesday and shot her before opening fire at random, killing three people and injuring six others before he was killed by law enforcement, Orange County officials said.
John Snowling, 59, entered the Cook's Corner bar in Orange County around 7 p.m. local time armed with two guns, Orange County Sheriff-Coroner Don Barnes said in a news conference Thursday. There was no argument between Snowling and his soon-to-be ex-wife before he shot her and a woman she was eating with, Barnes said.
The wife's dining companion died at the scene, he said, and the wife has been hospitalized.
After opening fire inside the bar, Snowling retreated to a back parking lot area and began to retrieve two more guns, Barnes said. During that time, a man confronted Snowling and was subsequently shot by the gunman, according to the sheriff.
When sheriff's deputies arrived minutes after the shooting began, Snowling began shooting at deputies, who then returned fire and killed him, Barnes said.
"It's an absolute tragic event and something that I know is probably weighing very heavy on the entire Trabuco Canyon community," Orange County Undersheriff Jeff Hallock said. "Cook's Corner, it's a staple here."
In a post on X, the social media platform previously known as Twitter, the sheriff's department identified two of the victims in the rampage as 49-year-old Tonya Clark of Scottsdale, Arizona and 53-year-old Glen Sprowl Jr. of Stanton, California. The department previously identified a third victim as 67-year-old John Leehey of Irvine, California.
The US this year has seen at least 465 mass shootings with at least four wounded, excluding a shooter, the Gun Violence Archive reports. The nation surpassed the 400 mark in July, the earliest month so high a number has been recorded since 2013, the group said.
The restaurant and bar in the small community about 50 miles southeast of Los Angeles now joins a rapidly expanding list of ordinary places – neighborhoods, clothing stores, hotels and more – turned into murder scenes due to gun violence.
A total of six people were injured by gunfire, including the shooter's wife, Barnes said. All were taken to Providence Mission Hospital and were in stable condition, though two were in critical condition, the hospital's trauma medical director, Tetsuya Takeuchi, said. The hospital previously said the critically injured patients were a man shot in the chest and a woman shot in the jaw. Three of the six injured victims have been released from the hospital as of Friday, hospital officials said.
Snowling's wife was alert and conscious as of Thursday, Takeuchi said, noting one of her two children is with her at the hospital.
She had no restraining order in place against her soon-to-be ex-husband and the couple's last divorce proceeding was in early August, although it isn't immediately clear what was discussed during the hearing, Barnes said. There was no reported history of domestic violence, he added.
Snowling had traveled to Orange County from his home in Ohio but also had a residence in Camarillo, California, about 110 miles northwest of the shooting scene, Barnes said. Law enforcement searched the Camarillo home Thursday, he added.
The gunman was a 28-year veteran of the Ventura Police Department, from which he retired almost a decade ago, the department said in a statement.
Residents in the area described hearing the gunshots as the shooting began.
"We heard gunshots randomly going off," Jonathan Div, who lives in the area, told CNN affiliate KCAL. "And a few minutes later we heard it kind of increasing."
"Heartbroken to hear of another senseless mass shooting, this time in our own backyard," Orange County Supervisor Katrina Foley said in a statement. "My office has received updates from the DA and Sheriff's Department, I am continuing to watch this closely."
California Gov. Gavin Newsom issued a statement Thursday urging Californians to use the state's red flag laws, which "allow victims of domestic violence, family members, coworkers, and others to seek protective orders to prohibit potentially dangerous individuals and abusers from possessing guns."
"This type of trauma is unfortunately not isolated," Newsom said. "Two-thirds of mass shooters in America have a history of domestic violence. Victims and survivors in California should know they are never alone — we have tools and resources to support and protect you."
"If you see red flags, say something — and in doing so, save lives," the governor added.
Established in 1884, Cook's Corner bills itself as one of the oldest and most famous biker bars in Southern California, hosting regular specials and open mic nights.
Cook's Corner is a central place in the community where families would share a meal, officials noted Thursday. "Children welcome," is emblazoned on a sign in front of the bar.
"What happened there yesterday is not a definition of, or not consistent with, what Cook's Corner in that community is known for," Barnes said.
Orange County District Attorney Todd Spitzer added Cook's Corner "is iconic, it is special, and nothing that happened last night is going to ruin either the canyon, its austerity, its prominence or Cook's Corner."
Wednesday night was $8 spaghetti night at the bar. Creedence and Company, a Creedence Clearwater Revival cover band who have been performing at the bar for more than 10 years often play spaghetti nights there.
"We are Saddened by the news from Cooks Corner," the band posted on its Facebook page overnight. "Our thoughts, prayers & condolences go out to everyone in the Cooks Corner community."
"We've experienced major earthquakes, forest fires, floods, recessions and other disasters," the Cook's Corner website reads. "We've gotten through all of them and came out stronger."
CNN's Lauren Mascarenhas, Amanda Jackson, Aya Elamroussi, and Zoe Sottile contributed to this report.