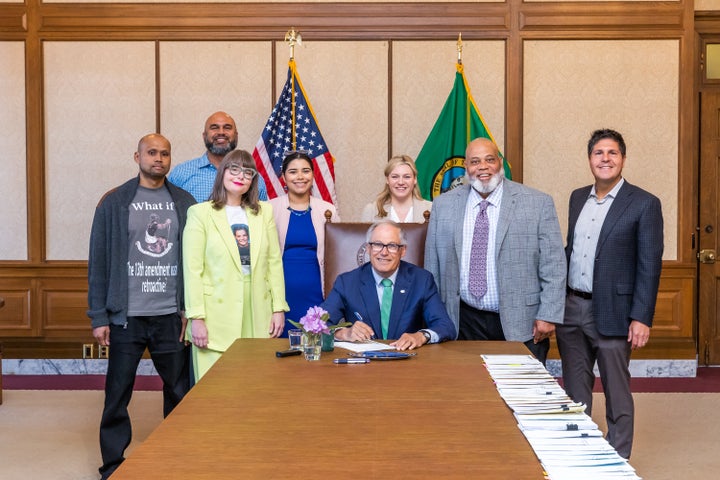 Growing up, Anthony Covert never felt like he belonged. He was a ward of the state by the time he was a toddler and bounced between foster homes throughout his childhood. Despite being told he was "unadoptable," he was eventually adopted by a white couple who loved him — but whose complexion did not match his own Black skin, making him a target of ridicule at school.
The first time Covert felt like he was part of a community was when he started hanging out with a gang as a young teen. He racked up a juvenile record: assault when he was 14 and residential burglary when he was 17. Shortly after his 18th birthday, he was arrested and charged with attempted murder. He was ultimately sentenced to 36 years in prison — roughly 10 of which were the result of his juvenile record.
Until recently, Washington automatically used juvenile felony records to increase adult prison sentences, which about a dozen states still do. In Washington, it was the . They even got the state's Superior Court Judges' Association to agree not to oppose the bill, Moore said.
The state House of Representatives passed the bill in March, with retroactivity intact. "I was very hopeful," said Covert, who is now the lead organizer in the Walla Walla State Penitentiary for Look2Justice. "A lot of us were very hopeful, sharing the news with our families, sharing it amongst each other, sharing it with even officers here."
In late March, after the bill moved to the state Senate, Sen. Jesse Salomon (D) introduced an amendment to remove all retroactive application of the bill.
"We talked and talked and talked," Hackney said of Salomon, who did not respond to a request for an interview. "I all but begged him not to do it. But there are some Democrats, as well as Republicans, who just don't understand sentencing reform. They see people in prison as bad and they should stay in for as long as they possibly can."
The amendment passed and suddenly lawmakers appeared set to abandon the incarcerated people who helped bring the bill into existence. Family members of those in prison with juvenile records marched on the Capitol in Olympia, carrying signs demanding retroactivity for their loved ones. But it was too late. The bill passed out of the Senate in April, stripped of retroactivity.
Moore was never able to get an explanation from the lawmakers who voted to remove retroactivity. "The only answer we really got was that it wouldn't have passed had they not cut retroactivity," she said. "But we were never given the opportunity to see the votes for that."
"We took it hard. We took it as a big middle finger," Covert said. To him, it felt like lawmakers had acknowledged that his sentence was wrong but refused to take steps to fix it. For weeks, he had felt like the "deliverer of hope" inside a place that usually doesn't have much of that. Now he had to deliver the bad news.
Earlier this month, Moore attended the bill signing ceremony with Gov. Jay Inslee (D). David Heppard, the executive director of the Freedom Project who was formerly incarcerated, initially wasn't sure he wanted to attend. He felt uncomfortable celebrating the partial victory. Ultimately he decided to go, wearing a shirt that read, "What if the 13th amendment wasn't retroactive?"
Hackney has already committed to pursuing a bill next year to make the reforms retroactive.
"I'm still trying to instill that sense of hope," Covert said. "But it's not as powerful as it was before."