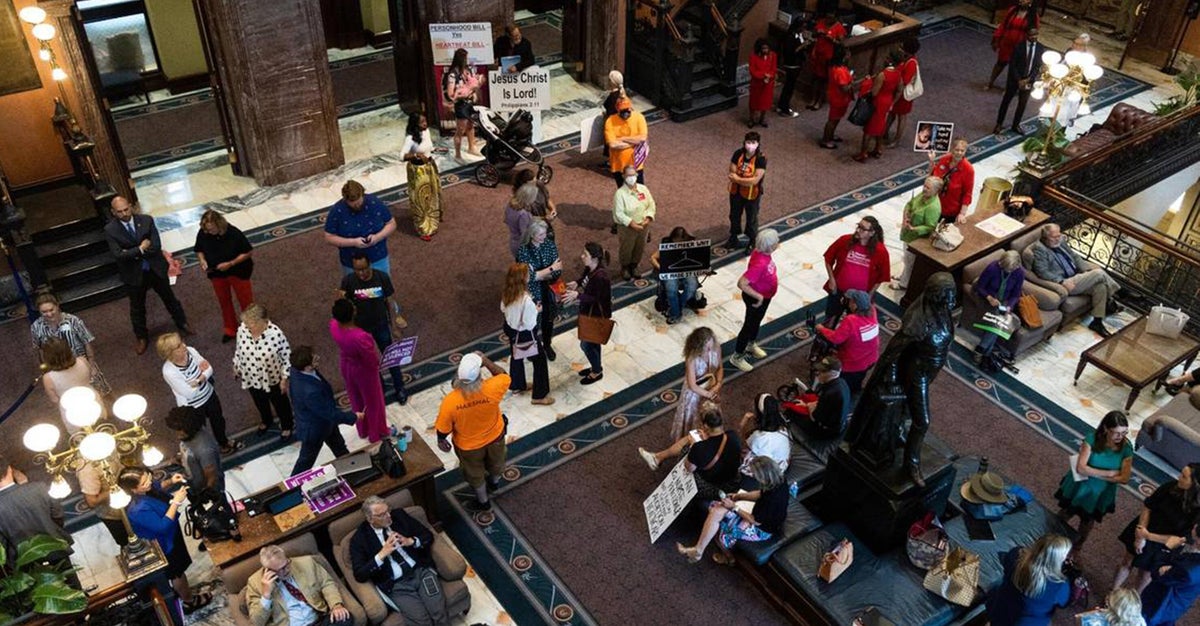 South Carolina's legislature has passed a bill that would ban abortions after six weeks of pregnancy, which is around the time most people find out they are pregnant.
Under this bill, doctors could face a fine of $10,000 and two years in prison, as well as the loss of their medical license, if they violate the law. There are exceptions in the bill that extend legal abortion access to 12 weeks. They include fatal fetal anomalies, medical emergencies and pregnancies caused by rape or incest.
The bill, which passed in the state Senate on Tuesday, nearly a week after it passed in the state House, caused a divide among lawmakers in the Republican-controlled legislative chambers and was tossed back and forth with several proposed amendments.
U.S. Rep. Nancy Mace (R-S.C.), for example, opposed the bill and took issue with the police reporting requirements for exceptions to be provided for victims of rape or incest, among other aspects of the bill, CBS News reports.
"I would not support this particular piece of legislation because of the police reporting requirements," Mace told CBS News last week. "I'm a victim of rape myself. I was raped as a teenager at age 16. I couldn't live with myself if I had to have it reported to police. Most rape victims do not report it. It's an extremely traumatic experience. And to force that reporting to local sheriffs is wrong. It's a non-starter."
Five women in the state Senate — three of whom were Republicans — tried to block the bill, but the filibuster failed, The New York Times reported.
The bill's passage follows after the state House had pushed for the state Senate to back legislation banning all abortions after conception, the Times reported. The bill was successfully filibustered three times by the women in the Senate and three male Republicans. Republican women attempted to push for the adoption of a 12-week ban instead, which was rejected by their GOP colleagues.
As a compromise, two of the Republican women agreed on a six-week ban with exceptions for medical emergencies, rape or incest, and fatal fetal abnormalities, CBS News. The proposal passed in the state Senate earlier this year but had to be voted on again after the House added amendments, including one requiring a judge to sign off on a minor's request for an abortion.
Debates surrounding whether or not the bill should be passed dragged on past the legislature's regular session. Democrats had filed more than 1,000 amendments to the legislation and insisted that Republicans consider them all, while Republicans — including House Speaker Murrell Smith — vowed to work on the legislation for as long as it took, CNN reports.
The House's failure to get the bill through in the regular session prompted Republican Gov. Henry McMaster to call for a special session earlier this month in order to get the bill to pass. The legislation now heads to McMaster's desk to be signed. The governor has said he will sign it.
Once signed, South Carolina would join Georgia in banning abortions after six weeks of pregnancy and will successfully restore a similar 2021 law that was overturned by the state's Supreme Court in January. Currently, 14 states ― many of which are in the South ― have banned most abortions since the U.S. Supreme Court a year ago overturned the 1973 Roe v. Wade decision protecting abortion rights nationwide.