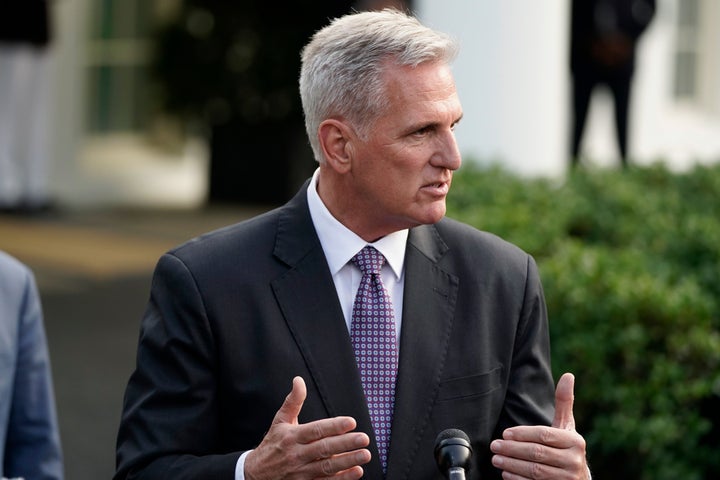 House Speaker Kevin McCarthy (R-Calif.) said the latest meeting with the White House over the need to raise the limit on how much the government can borrow was productive, even as he was pressed to point to specific signs of progress.
"We're getting closer. Don't give up on us," he admonished reporters at the U.S. Capitol early Monday night.
McCarthy had his third face-to-face meeting with President Joe Biden in less than two weeks as the White House and congressional Republicans try to navigate a path to avoid defaulting on the government's AAA-rated debt or leaving other bills unpaid because the Treasury Department runs out of borrowing room.
Defaulting on the debt or other obligations would lead to an economic crisis, economists say, given the U.S.'s pristine creditworthiness and the role of the dollar in the global economy. Republicans want to force spending cuts and other policy changes in exchange for agreeing to lift the debt limit.
But finding common ground has been difficult. The White House says its budget plan issued in March would cut the 10-year deficit by about $3 trillion through a combination of spending cuts and tax hikes. But there has been no vote on that budget plan.
House Republicans narrowly passed a debt limit bill that would cut the deficit on net by about $4.8 trillion over 11 years. But it would get to that number through stringent budget caps that would make annual spending bills for federal agencies very difficult to pass. Several Republicans said the bill was meant as an opening bid, not a final offer.
The gap has been difficult to bridge and has only become more difficult as the clock ticks closer to early June, which is when Treasury Secretary Janet Yellen said the risk of default arises. Default could happen as early as June 1, she said again in a letter to lawmakers on Monday.
McCarthy was asked why he was upbeat, especially after one of his lieutenants who attended the meeting, Rep. Patrick McHenry (R-N.C.), said he did not feel a sense of urgency from the White House. The speaker replied, "I don't think we would agree to talks if we thought it wasn't productive and that we couldn't come to an agreement."
"We only talked about where our differences were. We talked about ideas. So we're asking staff to get back and run through those ideas to see if we could come to an agreement."
In a terse three-sentence post-meeting statement, Biden also called the talks productive but acknowledged there were "areas of disagreement."
"We reiterated once again that default is off the table and the only way to move forward is in good faith toward a bipartisan agreement," he said.