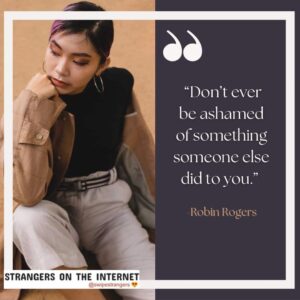 The thirty-first episode (Apple Podcasts link here and Spotify link here) of "Strangers on the Internet" with co-host and psychologist Michelle Lange features sociologist Dr. Robin Rogers from CUNY Queens College.
She tells the tale of how she escaped her marriage after her then-husband developed severe schizophrenia, became violent, and killed the family pets. Robin not only got through the six-year court fight to maintain sole custody of her two sons but in fact managed to thrive despite it all.
Her dating goal became all about having life-affirming fun, whether an interaction would lead to a long-term relationship or not. From a spontaneous trip to a wedding in Brazil to an invitation to attend a presidential inaugural ball, Robin got to enjoy many lovely adventures.
In early 2020, her existence was turned upside down when she was involuntarily committed to a terrifying hospital after a family member falsely claimed she had attempted to commit suicide. While her seriously ill ex-husband was never committed at all, Robin was now surrounded by patients who were hitting on her and threatening to rape her. Come find out how she survived even this experience and what life looks like on the other side!