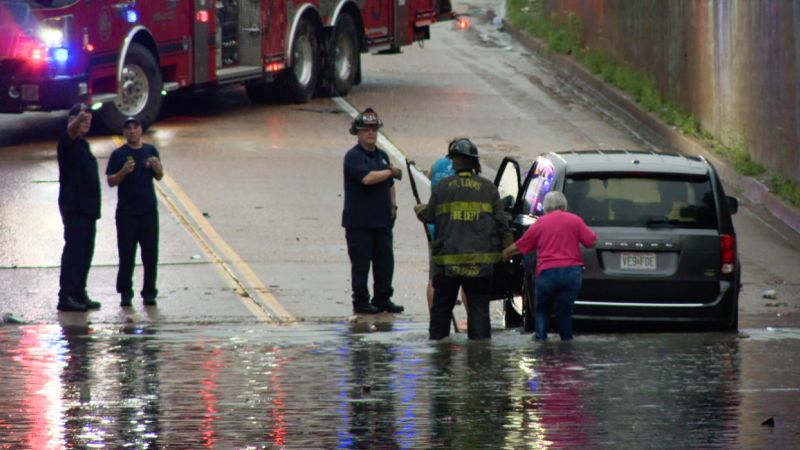 Rescue crews in St. Louis, Missouri, are responding to numerous reports of drivers trapped in flood waters Sunday as thousands in the area remain under flash flood warnings.
The St. Louis Fire Department has responded to at least 15 different calls involving vehicles stranded and motorists trapped due to flood waters, according to St. Louis Fire Department spokesperson Garon Mosby.
Mosby said it wasn't immediately clear how many occupants were inside of the stranded vehicles. No injuries have been reported.
As a storm battered the area with heavy rain, the National Weather Service issued a flash flood warning for over over 480,000 people in St. Louis and parts of Illinois until 9:45 p.m. CDT, warning that people should "move immediately to higher ground."
"Between 3 and 6 inches of rain have fallen. Flash flooding is already occurring, but heavy rain has ended," the weather service office in St. Louis said.
So far, Shrewsbury, Missouri, has received 4 inches of rain on Sunday alone, while Mehlville received 3.60 inches and Richmond Heights got 3.02 inches.
A slight risk for excessive rainfall, level 2 of 4, remains for the St. Louis area until early Monday morning.
This is a developing story and will be updated.
CNN Meteorologist Robert Shackelford contributed to this report.