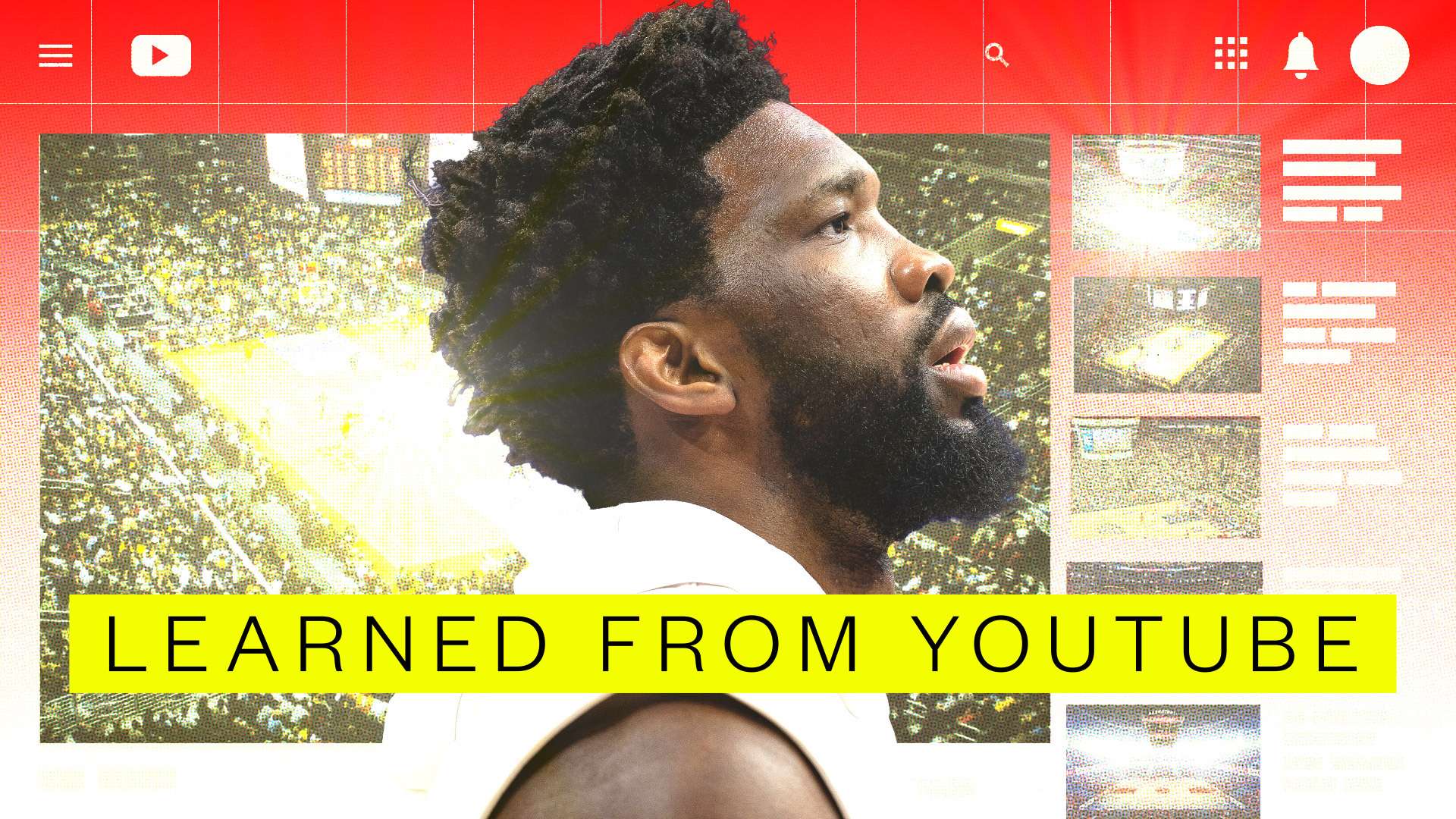 As a gangly kid who had just arrived in the U.S. from Cameroon, West Africa, 16-year-old Joel Embiid had a lot of the gifts he'd eventually put to use in the NBA: the height, the athleticism, the massive 7-foot-6-inch wingspan. 
But the one thing he couldn't do was actually shoot a basketball. 
Embiid didn't get into the game at all until he was 15. Today, he has become not just the lynchpin of a championship-chasing team in Philadelphia, but he's also arguably the best basketball player on the planet. And he was recently named the NBA's Most Valuable Player for the current season.
It's possible that this would never have happened if it weren't for Youtube.
In a 2016 interview with Sports Illustrated, he shared a secret to his success: learning to shoot long-distance shots by watching, in his words, videos of "regular white people" on the internet.
Yes, Embiid is a big dude, but there are a lot of those in the NBA. What sets him apart is his ability to do more than just stand under the basket and dunk. For a 7-footer, he's got an incredibly efficient jump shot.
During his career, Embiid has sunk more than 33 percent of his three-pointers. No one is going to confuse him with Steph Curry, but that's a better three-point shooting percentage than Michael Jordan, and it's miles ahead of other guys Embiid's size, most of whom hardly ever score that far from the basket. 
And for that he credits YouTube.
You and I are unlikely to become professional basketball players by watching hours of white dudes shooting three-pointers tonight. Sorry.
But you might learn how to repair a leaky toilet or install a utility sink in your basement by watching YouTube. I did.
Every day, untold numbers of other people accomplish less audacious tasks because of the knowledge that others make freely available via all sorts of online platforms, from Wikipedia to TikTok. The incredible amount of free knowledge that's available online is staggering. And that knowledge confers agency on anyone who's willing to use it. 
Are there cranks on YouTube spreading silly conspiracies and crazy uncles on Facebook sharing QAnon memes? Of course. 
But when politicians call for regulating social media and other online platforms, they risk throwing out a lot of the good with the bad, often in the name of protecting children. They ought to consider the other side of that equation too. Being exposed to unfamiliar ideas can sometimes be scary—but, like it was for a 16-year-old Embiid trying to refine his untapped athletic potential, it can also be game-changing.
Photos: RAY FOLI / UPI Photo Service/Newscom; Marty Jean-Louis/Sipa USA/Newscom; Brian Rothmuller/Icon Sportswire DHZ/Brian Rothmuller/Icon Sportswire/Newscom; Sports Press Photo//Sipa USA/Newscom; Sports Press Photo/Georgia Soares/SPP/Sipa USA/Newscom; Stephen Nadler/ZUMAPRESS/Newscom
Music: "Ace" by Candy Apple Red via Artlist; "I Am Not Your Doll" by Francesco DAndrea via Artlist; "Theevs" by The Good Life via Artlist