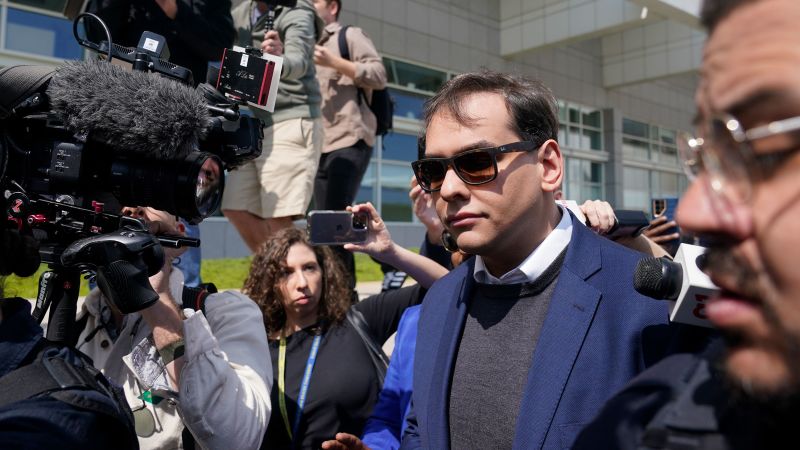 Private equity investor Andrew Intrater is one of the people federal prosecutors allege Rep. George Santos induced to donate money as part of an alleged scheme that diverted purported political contributions to Santos' personal use, Intrater's lawyer confirmed to CNN on Thursday.
In a 13-count indictment made public Wednesday, prosecutors alleged that Santos and an unnamed associate duped two donors – described only as Contributor #1 and Contributor #2 – into giving $25,000 apiece to support the Republican's candidacy last year.
The donors were told the money would go to an independent committee that could raise unlimited amounts to help his campaign and would help underwrite television ads, according to the indictment. Prosecutors, however, say the money instead went to a limited liability company that Santos controlled and the funds paid for designer clothing, credit cards bills and other personal expenses.
"From the outset, Andy Intrater aided the government's investigation of George Santos and is identified as a victim in the Indictment as Contributor #2," Intrater's lawyer, Richard D. Owens, said in a statement. "Andy is gratified that Santos will now have to answer in court for the many lies George told to Andy and so many other Americans."
Santos pleaded not guilty Wednesday in New York and has vowed to fight the charges.
Intrater has financially supported Santos' political ambitions in recent years, donating more than $24,000 to Santos' congressional campaigns and his federal leadership PAC since 2020, Federal Election Commission records show.
Intrater told The New York Times earlier this year that he also had invested more than $600,000 in a fund offered by Harbor City Capital, where Santos worked as an account manager, partly because he admired Santos as a "hard-working guy."
Intrater told the paper he later discovered he had been misled.
The Securities and Exchange Commission filed a complaint in April 2021 against Harbor City and its founder, Jonathan P. Maroney, alleging the company ran a $17 million "Ponzi scheme." Maroney has not been charged with a crime, and Santos is not named in the SEC complaint.
Intrater is perhaps best known in US political circles as a cousin of Viktor Vekselberg, one of several Russian oligarchs sanctioned in 2018 by the US Treasury Department, for "worldwide malign activity."
The New York Times earlier reported that Intrater was Contributor #2 in the indictment. CNN has not confirmed the identity of the other contributor described in the indictment.