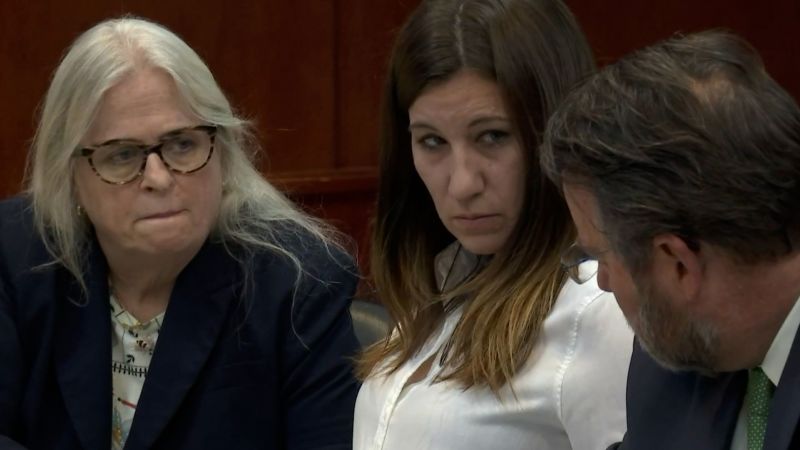 The mother of Aiden Fucci, a Florida teenager convicted of first-degree murder for stabbing a 13-year-old to death in 2021, changed her plea Friday from "not guilty" to "no contest" on charges of evidence tampering related to her son's case.
Crystal Smith, 38, pleaded no contest to a charge of tampering with evidence, a third-degree felony which is punishable by up to five years in prison. Pursuant to the plea agreement, the judge adjudicated Smith guilty of the offense and sentenced her to five years of probation with the condition she serve 30 days in the St. Johns County Jail, with credit for one day already served.
Her son, who was charged as an adult, is currently serving life in prison.
Authorities have accused Smith of washing a pair of bloody jeans her son had worn after the crime. Officials said Fucci, who was 14 at the time, stabbed Tristyn Bailey more than 100 times.
According to an arrest warrant from the sheriff's office, deputies interviewed the boy, with his mother present, at their residence on May 9, 2021, after Bailey had been reported missing. Video surveillance from the home showed after Fucci left with deputies, Smith went to her son's bedroom, retrieved what appeared to be a pair of jeans, took them to the bathroom, and seemed to scrub them in the sink, according to the warrant.
Pleading no contest means the defendant neither disputes nor admits to the charges, but allows the court to treat the plea as a criminal conviction.
Stacy Bailey, the mother of Fucci's victim, addressed Smith in a victim impact statement during Friday's hearing.
"I will also pray that you will reflect upon your actions while you are without your children on this Mother's Day," she said.