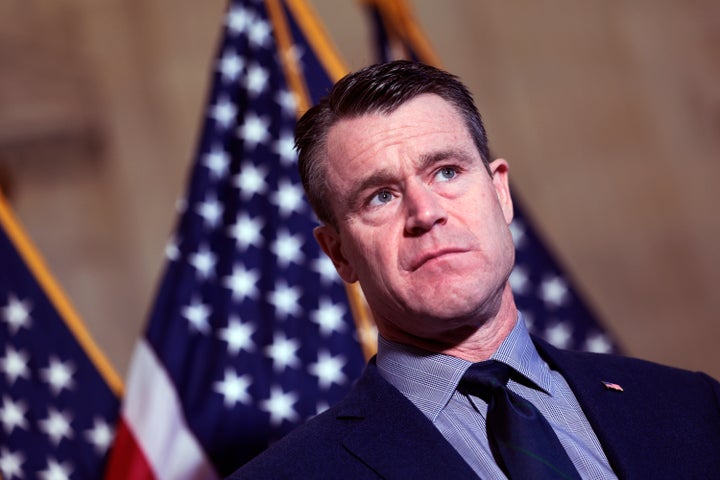 WASHINGTON ― Sen. Todd Young (R-Ind.) announced he won't support Donald Trump in the 2024 GOP presidential race, a day after a controversial CNN town hall where the former president repeated election lies, mocked a woman who accused him of sexual assault and refused to call Russian President Vladimir Putin a war criminal.
"You want a nominee to win the general election. As President Trump says, I prefer winners," Young told HuffPost on Thursday when asked about Trump's performance at the CNN event in New Hampshire. "He consistently loses. In fact, he has a habit of losing not just his own elections, but losing elections for others."
"I can't think of someone worse equipped to bring people together to pass legislation and advance our collective values than the former president," the senator added. "I don't think conservatives would be well served by electing someone whose core competency seems to be owning someone on Twitter."
Young, a former U.S. Marine known for working across the aisle, won a second term in 2022 despite not having Trump's endorsement, after he said the former president bore responsibility for the Jan. 6, 2021, riot at the U.S. Capitol. He won't be facing voters again until 2028, giving him a degree of insulation from Trump supporters who may not like his comments.
Still, it's notable to see a GOP senator come out forcefully against Trump at a time when many of his colleagues, including members of Senate GOP leadership, aren't willing to do more than avert their eyes in response to the latest controversy involving the twice-impeached former president. Trump is leading polls of the 2024 GOP race by a wide margin, and is currently on track to win the nomination despite his many legal troubles.
Young served in GOP leadership as chairman of the National Republican Senatorial Committee during the 2018 cycle. He has been openly critical of Trump, arguing that the former president is the reason his party lost the Senate in 2020 and lost ground in 2022.
Would Young support Trump if he becomes the GOP nominee in 2024 and the choice is between Trump and President Joe Biden? The Indiana Republican declined to say.
"I don't think he'll be the nominee. Republicans are in a winning mood. We want to win. We know he's the shortest path to losing," Young said.
He also flatly rejected the notion of running for president himself.
No Republicans followed Young's lead on Thursday, for the most part ignoring questions about the CNN town hall. Sen. John Thune (S.D.), the No. 2 Republican in the Senate, told reporters it "looked like a lot of Democrat campaign ads being written last night," suggesting that Trump hurt his odds of becoming president again.
Sen. Mitt Romney (R-Utah), a vocal Trump critic, also said the town hall "probably provided a service to the country, to see him untethered."
"I think it's helpful for people to see exactly what they would get with another Trump presidency," Romney said. "I think the fact that he didn't hew [to] the center of the country, but instead appealed to his base, is exactly what you're going to get."