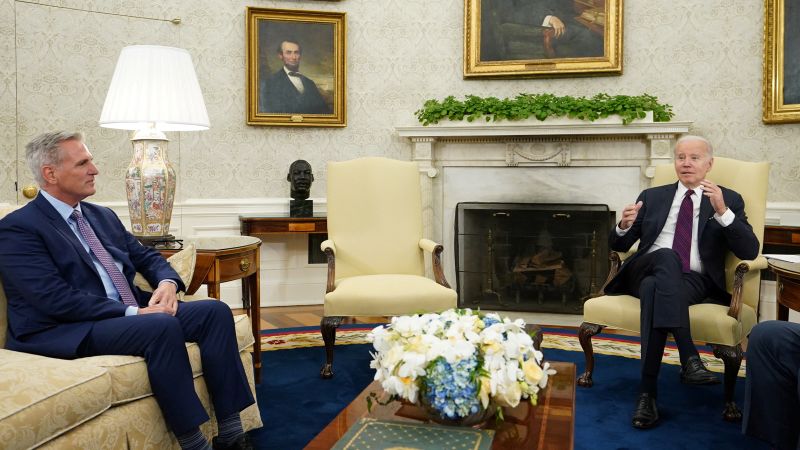 President Joe Biden's anticipated meeting originally scheduled for Friday with congressional leaders aimed at discussing a deal to avert a default on the national debt has been postponed, a White House spokesperson said.
Friday's meeting would have been the second time in less than a week that congressional leaders met with Biden at the White House in an effort to reach a solution to avoid default. Instead, the spokesperson told CNN on Thursday, staff will continue to meet and the leaders will come together again next week.
"I don't think there's enough progress for the leaders to get back together," McCarthy said on Thursday, adding that he expects a meeting on debt limit next week with the four congressional leaders and the White House.
"The White House didn't cancel the meeting – all of the leaders decided it's probably in the best of our interest to let the staff meet again before we get back together," McCarthy said.
A source familiar with the meetings insisted the delay was a "positive development" and that "meetings are progressing."
White House officials and aides to McCarthy and House Minority Leader Hakeem Jeffries all thought postponing the meeting was a good idea, according to another source familiar with the negotiations. The general consensus, they said, is that allowing more time for staff-level talks will ensure the leaders' meeting would be "more productive."
In a sign of contention, however, McCarthy slammed the "seriousness" of the White House in debt negotiations on Thursday, saying, "it seems like they want a default."
The ongoing conversations between the two federal branches come at a critical moment.
Treasury Secretary Janet Yellen recently warned that the United States could default on its obligations as soon as June 1 if Congress doesn't find a solution addressing the debt limit. And McCarthy has said Congress will need to reach a deal in principle by next week in order to move the deal through the gears of Congress ahead of that potential default deadline.
After an initial meeting on Tuesday in the Oval Office, those involved acknowledged that a concrete path forward to avoid default had not been secured.
Staff for each of the offices involved have met daily since Tuesday's meeting, relaying areas they see as red lines for each of their parties.
House Republicans have wanted to attach spending reductions to a debt ceiling increase and have passed a debt limit plan that does just that. But Biden and congressional Democrats have insisted on passing a clean increase on the debt limit before addressing a framework for spending.
But even as the president continues to insist he will not negotiate over raising the debt ceiling, he has said he is willing to negotiate spending levels and his staff is now racing to reach a spending agreement with Republicans before the US faces default as early as June 1.
The White House has conveyed to congressional negotiators that Biden's most recent legislative accomplishment, the Inflation Reduction Act, is off the table as the two sides begin to eye potential spending cuts, two sources familiar with the matter told CNN. The law, which makes historic investments in combating climate change, was targeted as part of House Republicans' bill to cut spending alongside a debt ceiling increase.
Among the White House's other non-starter items: rolling back student debt forgiveness – a key campaign promise that remains tied up in litigation that was also targeted in House Republicans' bill last month – and Medicaid and SNAP benefits.
Inside the West Wing, there is a growing acknowledgment that the White House will have to accept spending cuts, even as the president argues the spending negotiations are not linked to raising the debt ceiling.
And negotiators are also beginning to discuss permitting reform, which could be a part of an eventual deal, two sources said.
Sources familiar with the matter said the White House is willing to entertain a cap on future spending, but for a far shorter period of time than the 10-year spending cuts agreed to as part of the 2011 debt ceiling standoff.
And in early conversations, White House officials have also indicated a debt ceiling increase will need to last more than the one year, to avoid this scenario playing out again next year.
Louisiana Rep. Garret Graves, who is helping lead GOP negotiations on the debt ceiling, on Thursday outlined four areas where he thinks there could be agreement: permitting reform, clawing back unspent Covid relief funds, work requirements and spending caps.
Graves acknowledged that the White House indicated they "don't like" repealing any portions of the IRA. On the length of the debt ceiling hike, Graves signaled that Republicans would be open to a two-year hike but said that would require the White House to put "more savings on the table."
While Biden had suggested earlier this week that he'd be open to a short-term extension, Graves ruled out the idea, saying, "As far as we're concerned right now, it's absolutely off the table."
CNN's Haley Talbot and Manu Raju contributed to this report.