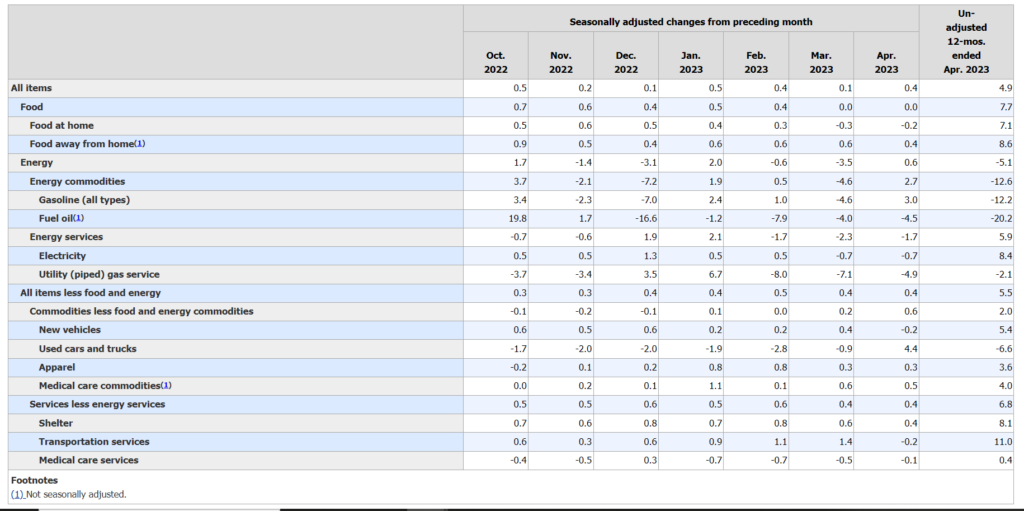 Consumer prices rose faster in April, driven by another round of sharp increases in rental prices—and raising ongoing questions about whether a return to 2 percent annual inflation is possible.
Overall, prices rose by 0.4 percent in April, according to data released Wednesday morning by the Department of Labor, after ticking upward by just 0.1 percent in March. The annualized inflation rate fell to 4.9 percent, down slightly from March's annualized rate of 5.0 percent.
Even though those numbers are a far cry from the 9.1 percent annual rate posted as recently as last June, it's a worrying sign that inflation seems to have settled into a range that's significantly higher than it had been for decades. The average inflation rate between 1990 and 2020, for example, was about 2.3 percent.
As it was in March, rental prices are the primary driver of April's price increases. Overall, the Labor Department's index for "shelter" prices jumped by 0.4 percent in April. But that category includes a number of factors other than rent, including things like hotel room rates, the prices of which actually declined slightly during April. On their own, rental prices climbed by 0.6 percent during the month, according to the department's report.
The good news for consumers is that food and energy prices, which largely drove last year's spike in overall inflation, have returned to more normal territory. Food prices were flat in April and energy prices are down significantly over the past 12 months despite a 0.6 percent increase during April.
Until rental prices fall, however, overall inflation is likely to remain stubbornly high. That's because rent and "owners' equivalent rent"—another portion of the "shelter" index, measuring the amount that a homeowner could charge if he or she chose to rent out their property—account for over 32 percent of the overall inflation index.
There's a political dimension to inflation, of course, which will only come into clearer focus as the 2024 presidential election gets closer. President Joe Biden's poll numbers continue to sag despite the announcement that he will seek a second term, perhaps in no small part because many voters see him as responsible for the higher prices they've been forced to pay for nearly everything.
Overall, prices have increased by 15 percent since Biden took office. That's outpacing every president since Jimmy Carter, according to the "Presidential Inflation Rate" tracker developed by the Winston Group, a conservative political advisory firm.
Of course, Democrats avoided a disastrous midterm election despite last year's rampant inflation. Still, Biden's policies have contributed to higher prices and stubbornly high inflation will be a weight around his neck as he runs for a second term—which is only fair since the rest of us have to deal with higher prices in more immediate, direct ways.