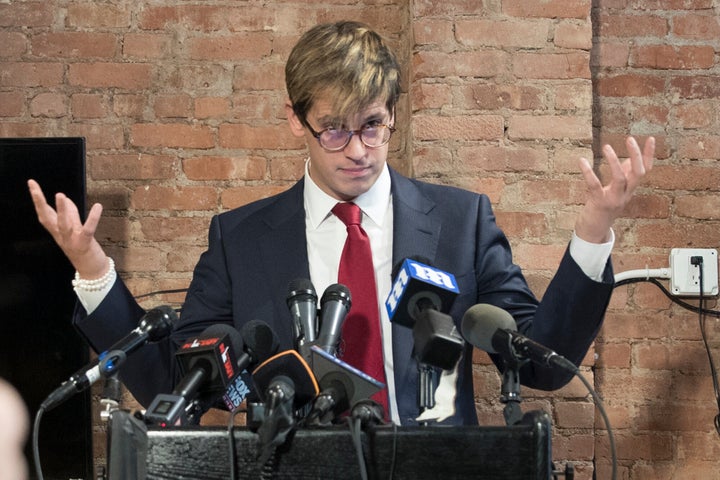 According to the Daily Beast, Yiannopoulos used a credit card from Greene's campaign to buy the website Ye24.com for Ye's yet-to-be announced 2024 presidential run on Nov. 22, 2022.
After snagging the site from GoDaddy.com for around $7,000, the alt-right pundit was reimbursed by Ye's 2020 campaign committee for a $9,955 "domain transfer," according to documents obtained by the outlet and "a person with knowledge of the events."
Receipts filed to the Federal Election Commission from both Greene and Ye's campaigns match the dates and amounts of the alleged transactions.
Yiannopoulos' reported purchase came the same day that Ye dined with former President Donald Trump and white supremacist Nick Fuentes at Mar-a-Lago.
The former Brietbart Tech editor previously claimed he arranged the sit-down, telling NBC News he hoped the bad press from the dinner would "make Trump's life miserable."
Reports of the political consultant's murky transactions come just a day after Ye's treasurer Patrick Krason quit the campaign.
In a letter addressed to Ye and published by Politico, Kranson claimed Yiannopoulos may have committed a "potentially serious criminal transaction" by "submitt[ing] falsified invoices for expenditures that would be deemed unlawful."
Yiannoupoulos responded to the Daily Beast saying, "The story is absolutely false from start to finish," while later claiming the charge was simply a billing error by a "junior staffer."
"The accident was quickly rectified and the correct card charged. I have apologized privately to Marjorie for the mixup," he told the site.