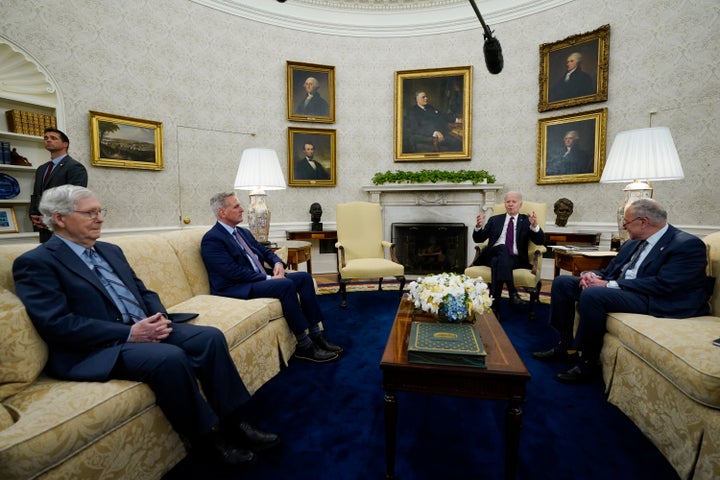 WASHINGTON — President Joe Biden on Tuesday repeated his warning to Republicans not to hold the nation's economy hostage to their budget-cutting demands, this time at a White House meeting about the looming deadline to increase the nation's borrowing authority to avoid defaulting on the national debt.
Biden met with House Speaker Kevin McCarthy (R-Calif.), who on behalf of his GOP members insists that a debt ceiling hike must be tied to budget cuts, as well as Senate Republican Leader Mitch McConnell (R-Ky.), Senate Majority Leader Chuck Schumer (D-N.Y.) and House Democratic Leader Hakeem Jeffries (D-N.Y.).
"We're going to get started," Biden told reporters invited into the Oval Office meeting at the start of the meeting. "We're going to solve all the world's problems."
An hour later, McCarthy said the problem has been Biden's refusal to negotiate over the past three months, and that the House has, in fact, passed a bill increasing the debt ceiling as one of its elements.
"The challenge here is the president wasted 97 days," McCarthy told reporters outside the West Wing, adding that Biden and congressional leaders agreed to meet again on Friday. "I think we should spend less than we spent last year, since we spent too much money."
Schumer, who addressed reporters after McCarthy had left, said the "bad news" of the day remained that the risk of default remains. "We explicitly asked Speaker McCarthy to take default off the table. He refused," Schumer said.
In his own brief news conference with reporters early Tuesday evening, Biden again argued that dealing with the debt ceiling has nothing to do with future spending and should be dealt with separately – just as it was on three different occasions under his Republican predecessor, by Republican members of Congress, without drama.
"I made clear in our meeting that default is not an option. The United States is not a deadbeat nation," he said. "This nation has never defaulted on its debt. It never will. … An overwhelming number of the members of Congress know it would be a disaster."
Biden said his staff has been looking at fallback options such as invoking the 14 Amendment's declaration that the nation's debt cannot be challenged and increasing the debt limit on his own. But he said likely legal challenges of that action would drag on for months. "I don't think it solves our problem now," he said.
Biden added that one complicating factor was McCarthy's tenuous hold on his own Republican caucus and the promises he may have made to his most "extreme" members to win their votes for the speakership in January.
"I trust Kevin will try to do what he says," Biden said. "I don't know how much leeway Kevin McCarthy thinks he has."
Treasury Secretary Janet Yellen, a former chair of the Federal Reserve, warned last week that the nation would exhaust its ability to pay debts already incurred as early as June 1 — a month and a half earlier than previous projections.
Biden has insisted that he will not "negotiate" over the debt limit, which represents spending that has already taken place and permits the Treasury to issue bonds to, among other things, make interest payments on outstanding obligations. Most economists believe that defaulting on the debt — which has never happened — would be catastrophic, as the nation's credit rating would be downgraded and borrowing money would become that much more expensive.
Biden has said that he and Congress should pass a "clean" debt ceiling increase and discuss spending and taxes for the coming and subsequent fiscal years separately.
Biden's aides also pointed out that Republicans who controlled both chambers of Congress from 2017-2019 and the Senate from 2019-2021 raised the debt ceiling three times under his Republican predecessor without once demanding budget cuts. In fact, the national debt increased by 40% over those four years, in part because of trillions in emergency spending during the pandemic, but also because of a massive new tax cut and a repeal of budget caps imposed under former President Barack Obama.
At her daily press briefing Tuesday, press secretary Karine Jean-Pierre called the debt ceiling problem "a manmade crisis" that Republicans could solve easily. "The exit strategy is very clear: do your job," she said. "Prevent a default."