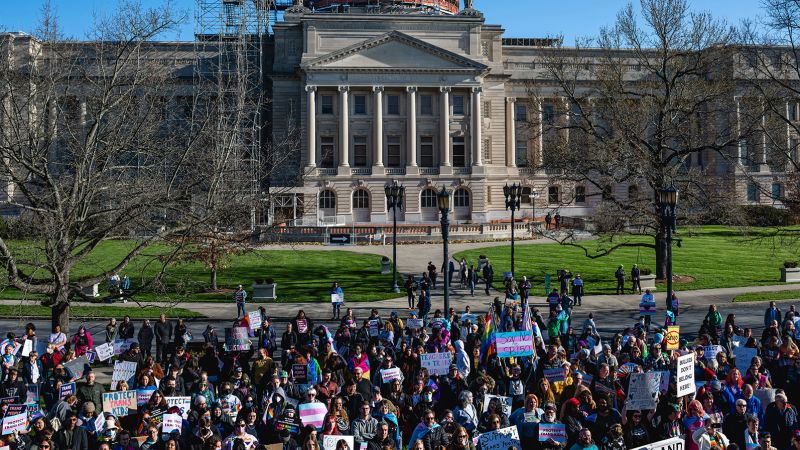 The Kentucky legislature enacted new restrictions Wednesday on the rights of transgender youth, overriding the governor's veto of a bill that places bans on gender-affirming care for minors, on discussions of sexual orientation or gender identity in school, and on transgender students using bathrooms that align with their gender identity.
Democratic Gov. Andy Beshear had vetoed Senate Bill 150 on Friday, saying in a statement at the time that it would allow "too much government interference in personal healthcare issues and rips away the freedom of parents to make medical decisions for their children."
But the Republican supermajority in the state's legislature overrode that veto largely along party lines, with a 76-23 vote in the state House and a 29-8 vote in the state Senate, according to Kentucky's legislative research commission.
While the state Senate majority caucus celebrated SB 150 in a tweet as "one of the nation's most significant and comprehensive omnibus bills to enhance protections for Kentucky's children," Kentucky's Democratic Party deemed the measure the "most extreme anti-LGBTQ bill in America."
A spokesperson for Beshear directed CNN to the governor's previous statements on the bill when asked for comment on the override. The governor faced similar circumstances last year when Republicans overrode his veto of an anti-trans sports ban.
The new law comes as legislatures across the country have introduced similar measures, which Republicans say are aimed at protecting minors. Transgender minors' access to gender-affirming care – medically necessary, evidence-based care that uses a multidisciplinary approach to help a person transition from the gender they were designated at birth to the gender by which one wants to be known – has been a particular flashpoint, with Georgia, Iowa and Tennessee enacting their own bans earlier this month.
SB 150, the Senate majority caucus said, will protect children "from the irreparable harm of gender-affirming care – including gender reassignment surgery which involves genital mutilation – before a child can fully consent to the potential ramification of such a life-altering decision."
Major medical associations, however, agree that gender-affirming care is clinically appropriate for children and adults with gender dysphoria – a psychological distress that may result when a person's gender identity and sex assigned at birth do not align, according to the American Psychiatric Association.
Though the care is highly individualized, some children may decide to use reversible puberty suppression therapy. This part of the process may also include hormone therapy that can lead to gender-affirming physical change. Surgical interventions, however, are not typically done on children and many health care providers do not offer them to minors.
Kentucky's ban on gender-affirming care for minors, such as surgical procedures or the use of certain hormones, will not take effect until 90 days after the Kentucky General Assembly adjourns, according to the legislative research commission. That means trans youth have until around late June to receive such care in the state, according to Kentucky's branch of the American Civil Liberties Union.
The bill's bathroom ban for transgender students, ban on teaching about gender identity in schools and allowance for teachers to not refer to students by their preferred pronouns, among other measures aimed at LGBTQ youth, will all go into effect immediately under an emergency provision.
Amber Duke, executive director of the Kentucky ACLU, said in a statement that the organization plans to take the state to court over the law.
"This is one of the most extreme anti-transgender bills we've witnessed – even amid the historic wave of anti-LGBTQ legislation we've been fighting in states across the country over the last several years," said Troy Stevenson, director of state advocacy campaigns at The Trevor Project, a suicide prevention and crisis intervention organization for LGBTQ young people.
Both Stevenson, and Beshear in his veto statement, mentioned concerns about the bill's impact on youth in Kentucky – 49% of LGBTQ young people in Kentucky, including 59% of those who are transgender or nonbinary, seriously considered suicide in the past year, according to the Trevor Project.
CNN's Kaanita Iyer, Paradise Afshar and Devan Cole contributed to this report.