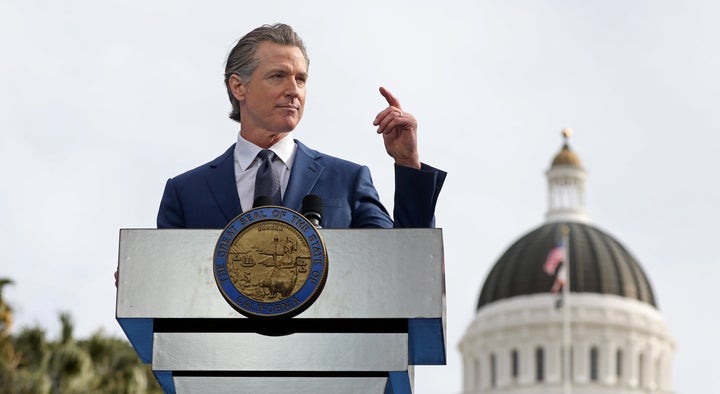 California Gov. Gavin Newsom (D) said the state is cutting ties with Walgreens, the nation's second-largest pharmacy store chain, after the company announced it won't sell abortion pills to consumers in 20 states.
"California won't be doing business with @walgreens ― or any company that cowers to the extremists and puts women's lives at risk," Newsom wrote in a tweet on Monday, sharing a link to a CNN article about the company. "We're done."
Newsom did not specify what business the state does with the chain, and his office did not immediately respond to a request for comment. But a Newsom spokesperson told Reuters that "all relationships" between Walgreens and the state of California are under review.
Since the Supreme Court overturned Roe v. Wade last summer, abortion care has been severely restricted. Many states have passed or are in the process of introducing legislation to limit abortion, while some access remains blocked by lawsuits. Some Republicans are specifically going after medication abortion, a safe, commonly used method to end a pregnancy.
"We emphasize that it is our responsibility as State Attorneys General to uphold the law and protect the health, safety, and well-being of women and unborn children in our states. Part of that responsibility includes ensuring that companies like yours are fully informed of the law so that harm does not come to our citizens," the letter read.
Walgreens wrote letters to the Republican attorneys general confirming that its stores do not yet distribute mifepristone, one of two pills used for medication abortion, and would not dispense or ship the drug to their states, Politico reported last week.
Abortion is not banned outright in some of the states mentioned in the letters, including Alaska, Iowa, Kansas and Montana.
Mifepristone can be combined with another medication, misoprostol, or used alone. Abortion by way of medication makes up half of all procedures across the U.S., according to the Guttmacher Institute. The medications are also prescribed for miscarriage care.
After facing criticism for its decision, Walgreens said in a Monday statement that it "plans to dispense Mifepristone in any jurisdiction where it is legally permissible to do so."
"Once we are certified by the FDA, we will dispense this medication consistent with federal and state laws. Providing legally approved medications to patients is what pharmacies do, and is rooted in our commitment to the communities in which we operate," the Walgreens statement continued.
The Walgreens press office declined to provide additional comment.