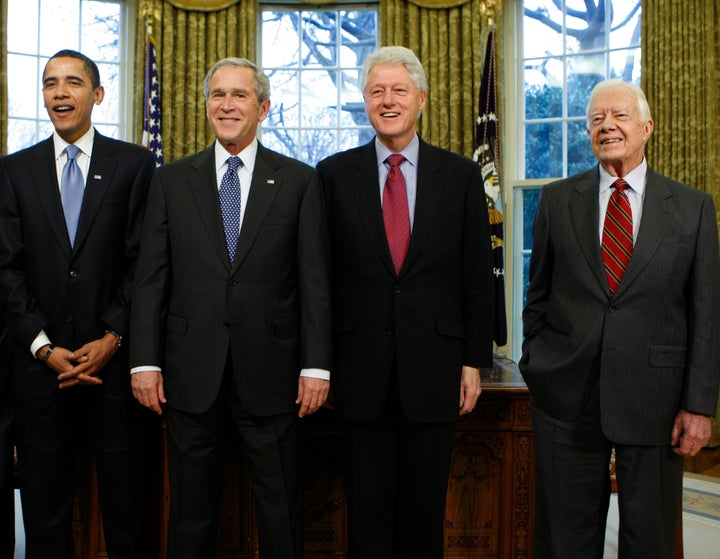 Former White House photographer Pete Souza shared a photo on Presidents Day of the four living American presidents who didn't try to overthrow U.S. democracy.
"On Presidents' Day, here are the current members of the Presidents' Club," Souza, who served as the official photographer during the Barack Obama and Ronald Reagan administrations, wrote Monday on Instagram.
"It is a very exclusive club. It includes all the living former Presidents of the United States except those that incited an insurrection and abused his powers to attempt to overturn an election."
The caption accompanied an image of former presidents Obama, George W. Bush, Bill Clinton and Jimmy Carter. It did now show the only other living ex-president, Donald Trump.
It's traditional for former presidents to put aside political differences and even unite to support common causes after leaving office, and for sitting presidents to consult and compare notes with their predecessors about a job so few can fully understand.
Like many other norms, this one effectively went out the window with Trump, who reportedly showed little interest in being a part of the alliance during and after his tenure.
Following President Joe Biden's inauguration in 2021, Obama, Bush and Clinton recorded a joint video address, praising peaceful presidential succession as key to American democracy. Though they did not mention Trump by name, the message directly pushed back against his efforts to subvert the democratic process after losing the 2020 election.
Since taking office, Biden has resumed the practice, reaching out to those who served before him for their guidance and expertise. He told CNN in 2021 that speaking to the former presidents offered grounding in a job that could otherwise feel overwhelming in its burdens.
Souza often swipes at Trump by sharing photos and stories he documented during the Obama presidency. He contrasted the immense differences between the two administrations in his 2018 book, "Shade: A Tale of Two Presidents" and the 2020 documentary "The Way I See It."