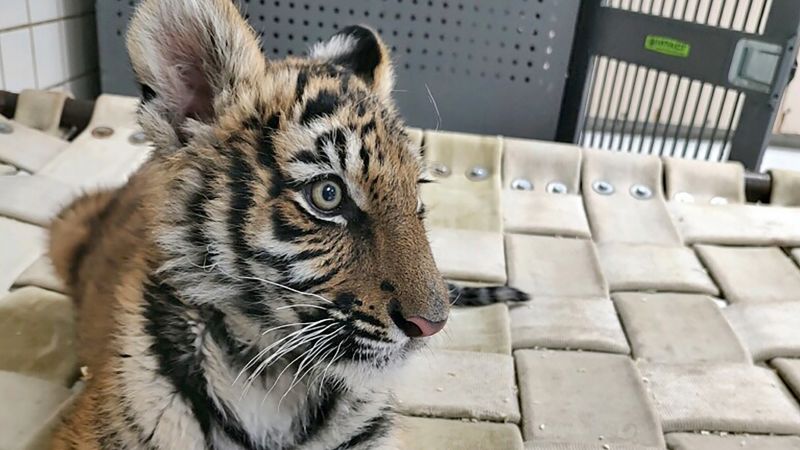 A Bengal tiger cub that was discovered inside a New Mexico home during a shooting investigation found a new home Saturday at The Wild Animal Sanctuary in Keenesburg, Colorado, according to ABQ BioPark in Albuquerque.
Duke, who is approximately four months old and was named after Albuquerque's nickname – "The Duke City" – was found last month in a small dog crate by police responding to a report of gunfire. The gunfire call led responding officers to a convenience store where a bystander there had been shot in the leg, Albuquerque police said in a news released.
After police heard a gunshot in a mobile home not far from the store, they found and arrested an armed suspect, authorities said. The tiger, which weighed a little more than 20 pounds, was also found in the home.
It is illegal to import or possess most wildlife and exotic species in New Mexico without a proper permit, the police release said, and tigers may only be possessed by a permitted zoo in New Mexico. After the incident, the cub was brought to the ABQ BioPark zoo until a more permanent home could be found.
"During his month-long stay at the BioPark, Duke received a healthy diet of meat to support his growth and development. He gained over five pounds and can no longer fit in the carrier that brought him to the BioPark," a press release from the park said. "The BioPark's specially trained animal care staff spent hours with Duke every day for socialization and training. Duke has perfected some of his tiger manners, which will prepare him to socialize with other tigers at his new home. He also learned how to voluntarily enter his new, much larger crate for the trip to Colorado."
Duke was unable to stay at ABQ BioPark because his genetic makeup is unknown.
"While the BioPark is dedicated to the care of all animals, which includes rescue work like this case, its priority is to prevent extinction," ABQ BioPark said. "Because Duke's genetic makeup is unknown, he does not fit with the BioPark's commitment to Malayan tiger conservation."
Duke will not be on display for the public in Colorado until he reaches adult size, according to ABQ BioPark.
CNN has reached out to The Wild Animal Sanctuary for more information.
CNN's Steve Almasy contributed to this report