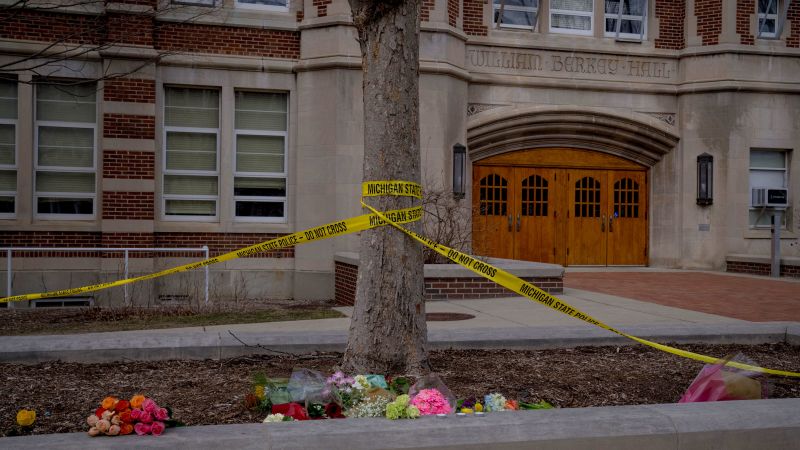 Three students wounded in a deadly shooting last week at Michigan State University remain in critical condition Sunday, according to university police.
The university community was paralyzed by the mass shooting that left three students dead and five others injured. One of the wounded students who was previously listed in critical condition was in serious condition Sunday and the fifth person was in fair condition, university police said in a tweet.
Classes are expected to resume Monday, one week after a 43-year-old gunman opened fire on two parts of the campus, but no classes will be held in the rooms where students were shot and killed or wounded, said MSU Interim Provost and Executive Vice President for Academic Affairs Thomas Jeitschko.
Those two parts of the campus will remain closed at least through the remainder of the semester, Jeitschko said at a news conference Sunday.
"We have decided that we will return to campus, both in terms of the classroom setting as well as the regular work, come tomorrow," Jeitschko said. "I'd like to emphasize that no one thinks that we're coming back to a normal week. In fact, this semester is not going to be normal."
Around 300 scheduled classes have been moved to other spaces across the university, according to Jeitschko, including areas formerly used to host lunches and seminars.
It's still unclear why the gunman – a man with no known ties to MSU – targeted the university. He died from a self-inflicted gunshot wound, authorities said, and had a note that threatened other shootings hundreds of miles away in New Jersey.
Funerals for two of the victims, Brian Fraser and Alexandria Verner, were held Saturday, and the funeral for the third, Arielle Anderson, will be in a few days, MSU interim President Teresa Woodruff said.
"We continue as a community to hold the families in our hearts as they remember and celebrate their loved ones lost and grieve that loss," Woodruff said.
"We're grateful to our faculty, staff, and academic staff and our support staff, as well as our students, for their grace and dignity in this last week," she said.
University officials said they hope students will be able to manage their return to school with the support of the staff and the community.
Coming back together "is something that will help us," Jeitschko said. "We're a community that was shaped around the interest of discovery and learning, and it is as a community we will heal."
For employees and faculty, the university has an employee assistance program, and for students, there are counseling and psychiatric services.
Advisers will make allowances "for extenuating circumstances" where students are not able to make it to class and faculty can work with their department chairs or school directors, as well as their deans, Jeitschko said.
Fund for the people 'most critically impacted'

The university has arranged to cover funeral costs for those killed and will also pay the hospital bills for the injured students, Woodruff said. A fund has so far raised more than $250,000, with around 2,000 students making donations over just a few days.
The fund will be used to support the "continuing needs of the individuals most critically impacted," Woodruff said, and will also go toward counseling for students, faculty and staff, and "campus safety enhancements."
"We all share in grief and loss and we know that we must replace the chaos of last Monday with the possibility for change in our world, through compassion for all, collaboration and educational continuity," Woodruff said.
Michigan State University has almost 50,000 students and 15,000 faculty and staff, Woodruff said. "We're a community that is strong. Not as a reaction but as a statement of purpose and principle."
CNN's Michelle Watson contributed to this report.